Reed Ghazala's ANTI-THEORY WORKSHOP is a stationary spaceship... a 70-year old cedar-shingled art & science probe, adrift in time, camouflaged beneath the trees by circumstance and moonlight.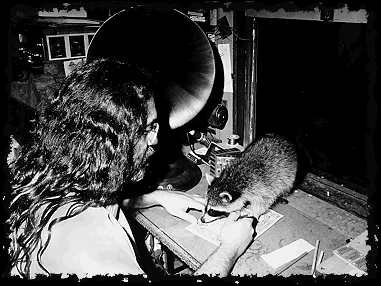 Friend Raccoon may come in through the window to sit on Reed's schematics; to watch the glimmer of the wood stove and share common earthling thoughts.

Here, from piles of discards, high-tech surplus, antique fixtures and collected oddities, Reed fashions extraordinary sound machines... experimental musical instruments based upon his circuit-bending technique.

Circuit-bending represents a grand conceptual rethink of electronic design aesthetics. Ghazala, in the mid-1960s, accidentally discovered the astonishing power of the creative short-circuit, a power that can transport the performance potential of audio electronics into an alien universe of sound and function. Over the ensuing 30 years this surprising technique has yielded an amazing assortment of sonic devices whose peculiar voice system not only suggests a new instrumentarium, but a waking art-form in possession of its own particular procedures and sensibilities.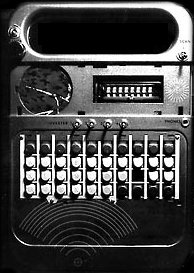 Incantor
Often, Ghazala's instruments are based upon digital audio toys. The circuit-bending applied to these targets widens frequency response, alters digital logic and transforms these circuits into capable, highly original synthesis equipment. The do-it-yourself section of this web site will open these doors to everyone interested. No electronics experience or knowledge of theory is needed; the few skills required can be learned in an evening or two.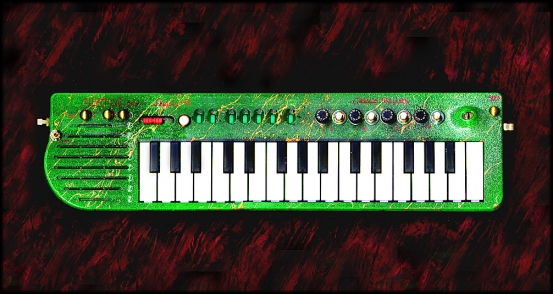 SA-2 Ultra Aleatron
The circuit-bent instrument is capable of generating very unique abstract sounds. To achieve this world of surreal audio, the process is often applied to sampled and synthetic animal, insect and human voices. Many instruments also produce chance, or aleatoric music: self-arranging streams of wildly indeterminate composition. Otherworldly, haunting, ugly, beautiful, unpredictable, outrageous and enticing, the anti-theory customizing within Ghazala's instruments presents engrossing new sound structures while prompting a fresh review of experimental musical form.

Appropriately, these new instruments rely upon controlling systems every bit as unusual as the instruments' sounds themselves. In place of keyboard, fret board, pitch holes... in place of the entire concept of linear tuning and linear playing exist a diversity of strange musician interfaces.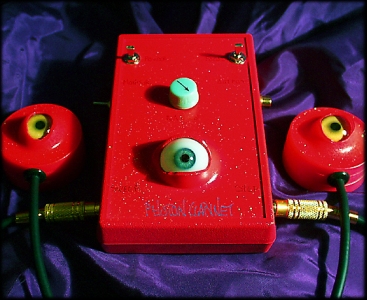 3-Eyed Photon Clarinet
Certain instruments may be actuated without touching, through means of captured lighting or moving hand shadows. Others look to the body-contact system; the musician literally becoming part of the circuit as electricity is safely conducted through the flesh. Humidity sensors provide breath control in certain devices. Still others sample the player's voice for source material to interpret into oddly rendered musical languages.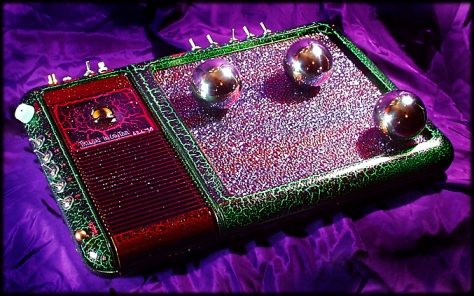 Trigon Incantor
Equally unusual are circuit-bending's electro-mechanical controllers. Pressure-sensitive zones for voice modulation may be discovered on instrument cases. Large steel balls roll upon responsive sensory stages. Infra-red relays, inertia triggers, mercury chambers, video screens, solar cells, photo resistors, mechanical shutters, electro-acoustic spring tubes, magnetic tape canvas, various antique keyed mechanisms and complex miniature switching matrices all have their place within Reed Ghazala's eccentric musical devices.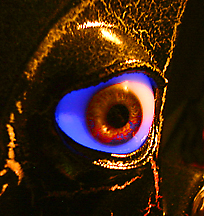 Visual indicators include specialty and high-tech LEDs: pilot lights of blue LEDs behind winking antique doll eyes, bi-color LEDs as function displays shining through fine glass animal eyes or medical industry glass human eyes, ultra-bright spotlight LEDs placed to flicker on players' hands, glass watch crystal windows on instrument cases revealing LED-illuminated circuitry within, and tiny SMD LEDs tricking the eyes. Incandescents from giant to miniature are housed within antique and retro-fit lens chambers. Diminutive black-light tubes, engraved-painting neon, even scintillating laser projections are incorporated as well.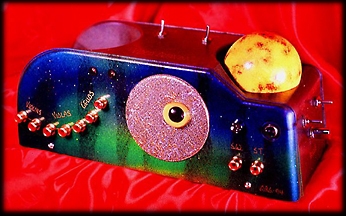 Video Octavox
Finishes include a variety of veining and marbling techniques. Crackled overcoats might combine with metallics, iridescents and fluorescents. Opal gloss, dull granites, laser-etched sparkles and micro-glitter interact with assorted shadings, pattern masking and unique chemical interactions to create abstract, organic-like coatings. Embossing, inking, staining, lacquering, even silicone sculpting and object embedding play their roles as finishes in the circuit bent designs.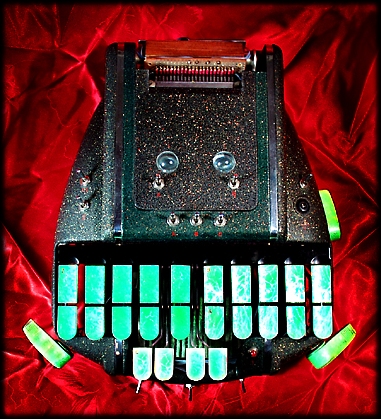 Vox Insecta
While most circuit-bending is done within the circuit's original enclosure, Ghazala's completely self-designed electronics are often built into salvaged antique housings. Art Deco stenographs, bakelight intercoms, vintage wooden radio horns, plus 1950s-60s kitchen appliances, hollow human limbs, glass spheres, old camera bodies, UV lamp shades... any recycled structure lending its aesthetics to the purpose might be transformed within the Anti-Theory Workshop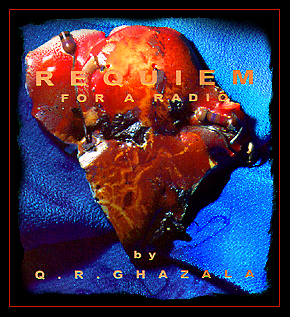 Requiem for a Radio CD
Reed Ghazala, in addition to instrument building, has been composing experimental music for the last three decades. Today Ghazala's critically acclaimed works are broadcast around the world and have appeared on more than 60 internationally distributed CD, tape and vinyl music packages. Reed's writing on the subjects of experimental music and experimental musical instruments is published and translated across the globe. Reed's circuit-bent sound generators have been requested by persons all throughout the arts and sciences, are becoming subjects of review in the major international press, and are increasingly appearing in the hands of fine musicians, including some of the planet's most renowned composers and recording artists.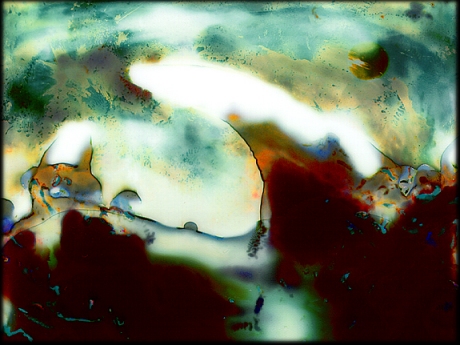 Landfall Series Dye Migration
Along the path, Reed's work has found its way into the permanent collections of the NYC Guggenheim, the Museum of Modern Art, the Whitney and other fine museums here and abroad. He has illustrated books, periodicals and music packages; designed public experimental music and laser installations; pioneered photographic dye-migration techniques; produced work for radio and television; constructed smoke and liquid light tanks; designed pyrotechnic explosion art, robotics, radio control systems, optical mobiles, magnetic sculptures and timepieces; and, of real importance to Reed, spent much time alone, quietly tenting for extended periods in deep wilderness areas. Consistent though, throughout it all, has been Reed's continual exploration and teaching of circuit-bending. Now, in the pioneering spirit of the cyberprofessor, Reed's information is being structured online.

S&S Incantor Scheme
Concepts swirl in the winds of change; thus new theories, philosophies and art forms are born. It is realized that every sound elicits an emotion and is asking to be embraced in the modern composer's mind. A great search is underway within this intriguing realm of thought. And so, freed from the drab cocoons of salvaged audio toys, Reed's sonic art machines emerge from the Anti-Theory Workshop, their sensory arrays and transformed capabilities as dissimilar to their origins as is the butterfly to its caterpillar. Ghazala's circuit-bent instruments continue to challenge their players to think well outside familiar music boundaries, offering composition possibilities unlikely to be found elsewhere.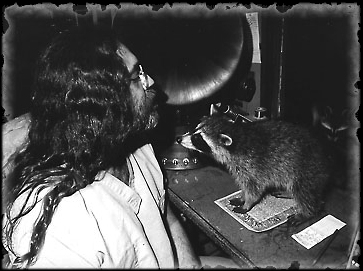 Friend Raccoon has discovered Reed's Anti-Theory Workshop to be a very unusual place, returning time after time to sit with Reed, listening to the strange music, looking at the instruments, watching the glow of the wood stove. And if later in her den she remembers the new sounds and colors, and they shape her raccoon dreams, then the Anti-Theory Workshop has succeeded. This, in essence, is what Reed's art is all about. Painting things invisible; giving rise to dreams.