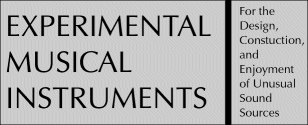 VOLUME 12 #4, DECEMBER 1996

"The Casio SK-1: Escapist Sample Shuttle" Qubais Reed Ghazala. This article appeared in Experimental Musical Instruments Volume 12 #2, December 1996. The print version of the article contains several photos and an additional sidebar not contained in this version appearing on the World Wide Web. This article can also be found at the Experimental Musical Instruments website.
VOLUME 11 #4, JUNE 1996

"Circuit- Bending And Living Instruments: The Harmonic Window": Qubais Reed Ghazala. 5 pages; 3 photos; 3 drawings. After a brief dreamlike introduction in the natural world, Reed Ghazala goes on to describe his Harmonic Window. The Harmonic Window is an aleatoric instrument that can stack small samples to stream together a complex thread of sound. What follows is an inquiry into his idea of a living instrument: circuit-bending an instrument expedites the aging process of the instrument so that it becomes impossible to retrieve a sound done in the past, as the sound transforms, ages. Lastly, he discusses whether circuit-bending instruments are "convulsing"
VOLUME 11 #2, DECEMBER 1995

"From the Music Wing of the Dream Museum: Sky Harps": Qubais Reed Ghazala. 5 pages; 14 photos; 2 engravings. Reed Ghazala searches for a source to unexplained sonic phenomena/happenings in the guise of the sky harp, a sonic device existing in dimensions parallel to ours, occupying the same space but existing at alternate temporal wavelengths [additional keywords: Marin Marsenne and Harmonie Universelle; Michael Pretorius and Syntagma Musicum; elevation bells; towering sky harp; alien triskelia; Sound Theater Museum]
VOLUME 11 #2, DECEMBER 1995

Letters and Notes. 8 pages; 10 photos; 8 drawings. Robert Grawi: A list of dream instruments and information on Gravikord. Ernie Althoff: A list of commercially available Nature Sound recordings, additional comments on bamboo and children's toys [additional keywords: Fisher Price Happy Apple]. Rene van Peer: Thoughts on Speed Bump Music after traveling German and Dutch Freeways. Michael Meadows: A description of a rotary rasp type device using a Singer sewing machine. Blake Mitchell: Wake the Marimba book; the Dancing Waters Color Instrument; bamboo instruments. Ultrasonic Tape [additional keywords: aeolian harps; singing telegraph wires]. Qubais Reed Ghazala and rare wind instruments [additional keywords: rotary rasp; Helmholtz' simple sirens]. James Coury: Interactive Sound Sculptures [additional keywords: randomness].
VOLUME 11 #1, SEPTEMBER 1995

"Perpetual Instruments and Requiem For A Radio": Qubais Reed Ghazala. 4 pages; 4 photos. An inquiry into the communication of sound and emotion, theology and science. Reed Ghazala goes on to describe requiem for a radio, a recording of the process of a radio's destruction wherein the four movements are based on the structure of the Requiem Mass [additional keywords: muscae volitantes].
VOLUME 10 #4, JUNE 1995

"Circuit Bending & Living Instruments: The Trigon Incantor": Qubais Reed Ghazala. 5 1/2 pages; 6 photos. 3 drawings. After a brief preliminary discussion of the beauty of chance and the rhythm of trains on tracks, Reed Ghazala goes on the describe his Trigon Incantor (see his article on the Incantor in EMI September 1992). The Trigon Incantor is an aleatoric electronic instrument made by deliberately applying random pressure using 2" steel balls to the surface of the electronic children's toy Touch and Tell. He also describes his manipulation of a piano which he refers to as the harmonic mute system, which creates harmonic overtones not unlike Cage's prepared pianos [additional keywords: indeterminacy; Speak & Spell; human voice synthesizers]
VOLUME 10 #3, MARCH 1995

"The Flame Componium and Reflections on the Pyrophone": Qubais Reed Ghazala. 6 1/2 pages; 9 drawings/engravings. After a brief discussion of various sound-sensitive pyrophones built around the turn of the century, Reed Ghazala goes on to propose his imaginary Flame Componium and Pyrotechnic Color Organ, both devices that would react visually to sound occurring around them [additional keywords: manometric flames; chemical harmonicas; sensitive flames; musical flames].
VOLUME 10 #2, DECEMBER 1994

"The Morphium and Strange Earth Voices": Qubais Reed Ghazala. 5 1/2 pages; 2 photos; 5 engravings. After a brief preliminary discussion of mysterious Earth noises, Ghazala describes his Morphium. The Morphium is an aleatoric electric instrument made by circuit-bending a children's toy with animal and railroad track sounds [additional keywords: mistpouffers; Barisal Guns; Moodus noises; meteor sounds; sample banks; conductive flesh contacts; potentiometers, variable resistors].
VOLUME 8 #4, JUNE 1993

"Incantors" by Qubais Reed Ghazala. 3+ pages; 2 photos. After a brief preliminary discussion of historical attempts at speech synthesis, Reed Ghazala goes on to describe his Incantor. The Incantor is an aleatoric electronic instrument made by deliberately mis-wiring and short-circuiting the electronic toy called Speak & Spell. [Additional keywords: Paget, formants. VODER]