WHAT ARE THE HOURS?

The Be-In is from morning to night and overnight, Sunday, September the 7th. It's OK to arrive the day before to set-up tents for an additional night's camp fee.

ADMISSION PRICE

•We're not charging anything, but the land-owner is. Tent camping is $9/night (this will come down to $5 as soon as the first field is filled: about 20 tents, $4 will be refunded).

Day visitors are asked to deposit $9 at the livery ($5 once the 1st field is full). This provides overnight privileges. But it also gets you in for $1/hr: if, for example, you only stay 2 hours, you'll get $7 back if you paid $9. Just take your time-stamped ticket back to the livery as you depart.

But if you'd like to support the Be-In, Raffle tickets are $5/person, at the camp, registering to win the 2008 Ghazala Be-In Incantor (valued over $1,000).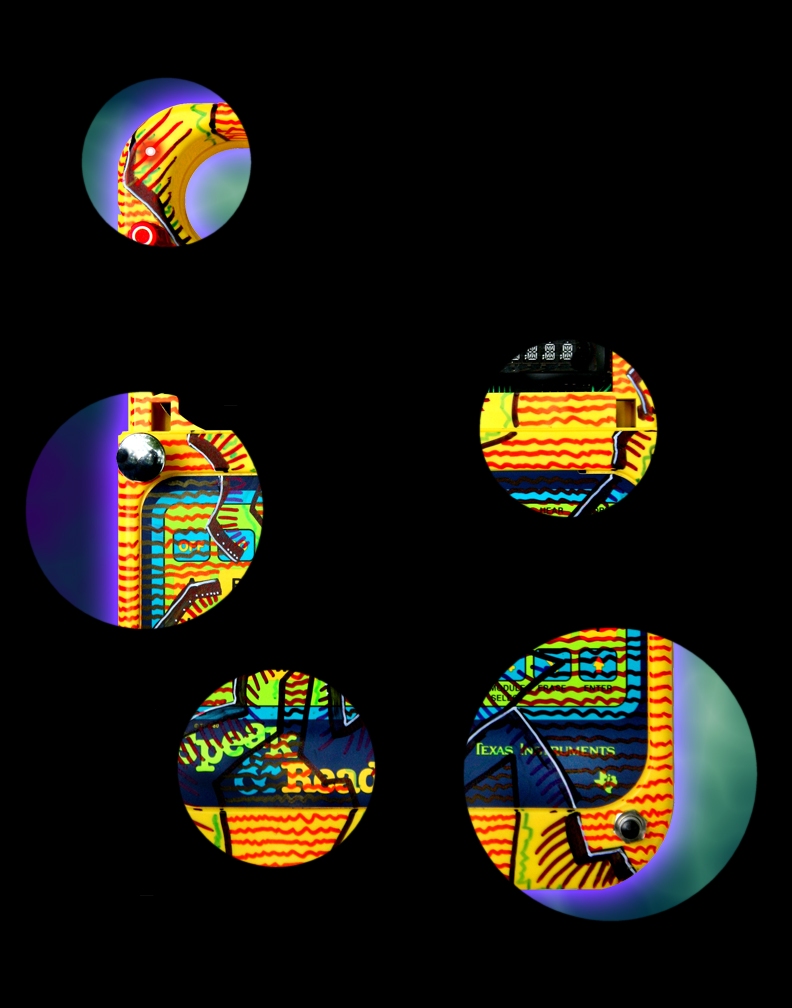 Cabins are $60 (they booked immediately, only one more available at this writing).

Tent sites are non-established – you pick a spot on the shady tenting grounds.

Reserve your space NOW…

BE CERTAIN TO TELL THE DESK YOU WANT A SPOT ON THE OTHER SIDE OF THE
RIVER, AT THE GHAZALA CAMP.

Morgan's Canoe Camp
6262 Gilmour Road
Morrow, OH 45152
513-899-2166


HOW TO GET THERE

From Cincinnati: Take I-71N to Exit 32 - Lebanon/Morrow Exit, Turn Right off Exit onto State Route 123, Go 2.6 miles, Turn Left onto Gilmour Road , Campground is 1.6 miles on left.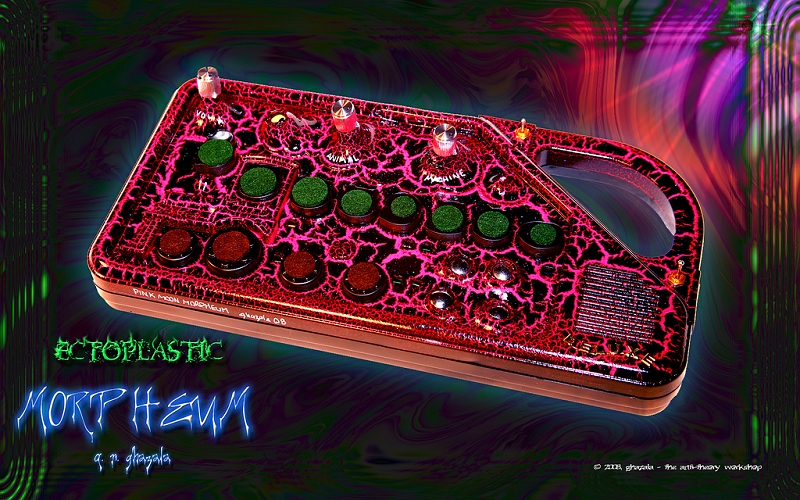 WHAT TO BRING

Bent instruments. Electronic art. Xtras to share (buy a bag of apples!). Things to swap. Things to sell. Battery-powered amp. Your own small tent if you're over-nighting. Swimsuit. Incense. Business/contact cards. Personal light show for nighttime magic. Cool art to show or sell. Thrift store electronics to gift, sell or trade. Warm clothes. Rain jacket. Bicycle (we're on a superb bike trail). Foods/snacks/water. And bring colorful things – banners, flags, streamers for the trees, mobiles, tapestries, paper lanterns, costumes, masks and magic wands. You know – help us with the transformation.

WHAT NOT TO BRING

Pets (sorry, there've been too many left-behinds). No illegals, please. We want to do this again.

WHAT NOT TO DO

Reed has secured for everyone a superb, private canoe camp (rentals available). Even so, there will probably be people in the family camp across the river from the Be-In. We need to respect these other campers by keeping instrument volumes down to reasonable levels. And a posted camp rule asks that campers respect neighbors sleeping across the river, and to hold loud noise down after 11 PM. That's pretty reasonable.

No trash left behind. Reed and Nebulagirl are not only the garbage collectors at the Be-In, they are monetarily responsible for any damage/trashing that occurs. If you brought it in – take it out. Please.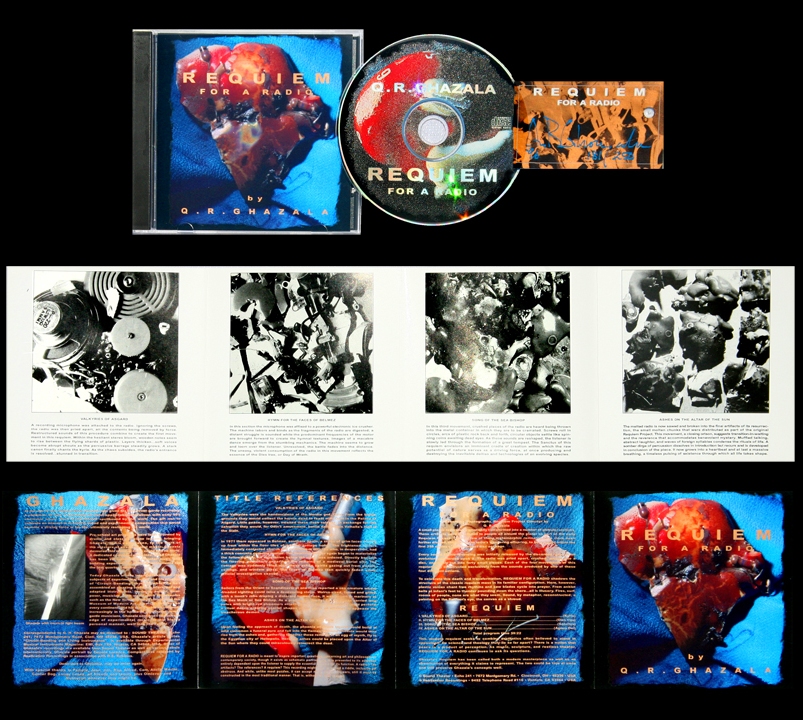 FOR COLLECTORS

For collectors of the art and its history, Reed is bringing "surprises" – signed rarities from the recording vault, odds and ends from the early "Sound Theater" days. This will include one signed copy of the original and rare EMI in which Reed first published his term "circuit-bending" (1992). Several special Requiem CD sets will be offered (includes a signed and numbered, laminated card containing an actual tiny chunk of the plastic radio heard being transformed in the recording). Signed Threnody CDs will also be available. Signed books. And other historic oddities.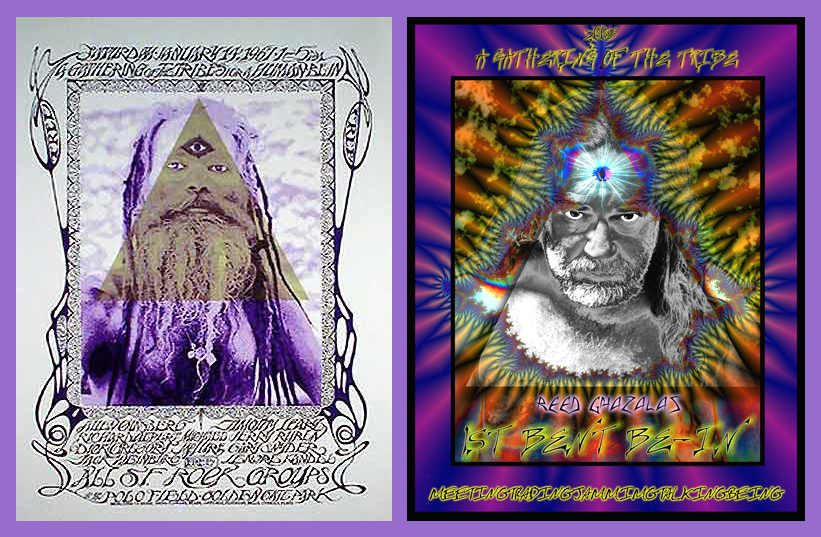 ABOUT THE POSTER

Reed's Bent Be-In poster is a modernization in honor of the original Be-In Poster by Stanley Mouse and Michael Bowen, first printed by The Bindweed Press, San Francisco, 1967. Reed's Third Eye is a glass cat eye from the Ectoplastic Morpheum. "I'm not really that grumpy, it's poster art." – Reed

HOW TO SUPPORT THE BE-IN

•Buy a signed poster. The original Be-In poster costs around $1,000 now. Ours are way less ;-), all signed by Reed. Proceeds go to this year's and next year's costs. They're 11x14, heavy stock ($18 in mailing tube).

Send check or Postal Money Order to:
POSTER c/o S. Wheatie
P O Box 37062
Cincinnati, OH 45222
•Spread the word. You can get a beautiful, FREE, 36" poster here Print some out, big or small, and pin them up in good spots.

•Enter the raffle ($5, front gate) to win this year's Ghazala Incantor.

•Bring your electronics garage sale and lay it out on a blanket. It's OK to mark-up your un-bent finds from the thrift shop. Just be reasonable. Share and gift if you can.

•Do you make a cool bent/hacked/modded-out instrument? Totally cool to bring 'em and sell 'em.

•Tell us what you'd like to do to add to the scene (Perform? Talk on a subject? Demonstrate a technique or instrument? Or?)

Contact us with your ideas:

ghazala@anti-theory.com

Watch this space to see what happens. Right here will appear updates as they occur. Be sure to check for possible schedule and location changes!

ghazala@anti-theory.com

And- PLEASE email us if you're planning to come so we can get a head-count and have the right space arranged for this. Tell us if you want to just hang-out, buy stuff, sell stuff, camp overnight, or perform.


Please be kind to each other and us. This is the first year, we're learning, we need your help.